Meet Our Parish
Who's Who
Our Parish is served by Fr. Alex Enriquez, Dn. Christian Knoebel and a terrific staff of people.
Clergy
Clergy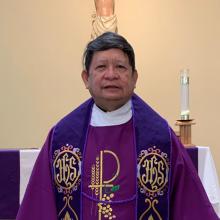 Reverend Alexander C. Enriquez
Fr. Alex is our pastor.
Born Dec. 1, 1957 in San Pablo City, Philippines, Fr. Alex was raised as one of 13 children in the religious and politically prominent household of his parents, Amado and Cresencana Enriquez. His father, an attorney and judge, served as vice president for the town council and campaign manager for many mayoral candidates.
He graduated San Pablo Minor Seminary, Phillipines, St. Carlos Seminary, Makati, Phillipines and after graduating from St. Francis de Sales College and the University of St. Thomas Central Seminary in the Philippines, Fr. Alex was ordained Oct. 1, 1985, in St. John the Baptist Church, Laguna, by Bishop Pedro N. Bantigue. After his ordination, he served a number of assignments in the Philippines and then traveled to Rome's Santa Croce University for further studies. While in Italy, he and a group of fellow students were sent to the United States in 1991 in response to a call from then-Archbishop Theodore McCarrick for summer assistants in the parishes of the Archdiocese of Newark.
Fr. Alex volunteered, and his assignments in northern New Jersey in Immaculate Heart of Mary Parish, Maplewood and St. Philomena Parish, Livingston, extended into the next year. As the majority of his family had moved to the United States, he expressed a wish to remain here and applied to dioceses throughout the New York-Metropolitan area to be near his family. In 1992, he accepted a call from the Diocese of Trenton.
His assignments since then have included service in the parishes of St. Denis, Manasquan (1992-1995); St. James, Red Bank (1995-2009) and St. Alphonsus, where he was named administrator by Bishop John M. Smith in 2009. The following year, in the midst of celebrating the 25th anniversary of his priestly ordination, Bishop Smith named Fr. Alex pastor of St. Alphonsus Parish. On July 1, 2013 he was assigned as Administrator of Church of St. Monica, Jackson. He became pastor in 2021.
Deacon Christian Knoebel
Dn. Christian was ordained on May 10, 2014, by Bishop David M. O'Connell, C.M. He holds a Bachelor of Science from Rutgers University and a Masters of Environmental Pollution Control from The Pennsylvania State University, has worked in digital media as an editor, producer, editorial writer and business executive for The Wall Street Journal, The New York Times and The Philadelphia Inquirer, and today leads digital communications at Princeton University. He is married to wife Debbie for over 25 years and together they have two children. They have been members of St. Monica's parish community since 1997.
Staff
Karen Badach
Mrs. Badach heads the religious education program and handles its day-to-day functions. The office is open from 9:00 a.m. to 3:30 p.m., Monday through Thursday.
Ms. Badach is responsible for assessing the needs of children in the parish and coordinates programs designed to meet those needs. She supervises the two religious education sessions, which are held on Monday evenings at St. Aloysius School. She recruits religious ed staff, and works with catechists, providing them with information on certification and continuing education. She functions as a liaison between the parish and the Diocesan Office of Religious Education in Trenton, is responsible for sacramental preparation programs, parent meetings and special events, and offers support to our youth group.
Liz Hills
Mrs. Hills, our business manager, joined our staff in 2005 with an IT background of 15 years as project manager. She supports the day-to-day functions of the parish including clergy, ministries/groups, parishioners, events, business and the maintenance of the church building and grounds.